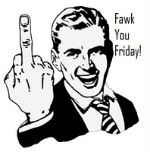 woo hoo It's Fawk you Friday
and let the Fawks fly ;)
* This week I'm going to give yet another nice big Fawk to the shitty weather, it has been so cold a Raining! I live in Oregon for the summers, that's the only thing that gets me threw the other 9 months of the year!
* Today is My birthday woo hoo only 365 more days till I'm a quarter of a century (lame), and a Fawk you to everyone that has to have there birthday on top of mine so that I NEVER get to celebrate my birthday! its MY birthday, NO I do not want to have a joint birthday party with you! sorry I'm just a bit bitter to march babies ;( but just about ALL of Matt's side of the family's birthdays are in the month of march and to top it off they are in the beginning of the month! awww okay I'm done ranting about my birthday!
* Fawk you to super Frizzy hair, thanks to all the rain my hair has its own hemisphere!
* and the Biggest Fawk you of my week to the Scale! I would like to see results asap! maybe my scale is broken, yeah its my birthday I'm going with my scale is broken! ;)